Alexander Law office is pleased to offer a lending library for clients who are looking for additional resources on topics ranging from child development and co-parenting to financial topics related to divorce and separation.  Our library is continually expanding and clients may either purchase or borrow books directly from our office as needed.
Here is a list of current titles available: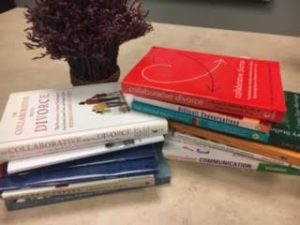 Nonviolent Communication by Marshall B. Rosenberg, PhD
Your Divorce Advisor by Diana Mercer, J.D. & Marsha Kline Pruett, Ph.D., M.S.L.
When Stories Clash by Gerald Monk & John Winslade
Everything is Workable by Diane Musho Hamilton
The Marital Arts by Larry Stallman
The Whole-Brain Child by Daniel J. Siegel, M.D., & Tina Payne Bryson, Ph.D.
Difficult Conversations by Douglas Stone, Bruce Patton & Sheila Heen
Collaborative Divorce by Pauline H. Tesler, M.A., J.D. & Peggy Thompson, Ph.D.
The Collaborative Way to Divorce by Stuart G. Webb and Ronald D. Ousky
Taking Control of Your Divorce by Allison Quattrocchi
Divorce Manual – A Client Handbook
What Should We Tell the Children? – A Parents' Guide for Talking About Separation and Divorce
Co-Parenting After Divorce by Lisa Gabardi, Ph.D.
Divorce and Your Money by ShawnC. H. Leamon, MBA
The Co-Parents' Handbook by Karen Bonnell and with Kirstin Little
Prenups for Lovers by Arlene G. Dubin
Divorce & New Beginnings, Second Addition by Genevieve Clapp, PhD
Check back soon for a list of podcasts and DVDs.